Form and Protect in One Step
Octaform is a stay-in-place, concrete forming system. Its closest comparison is to an insulated concrete form (ICF). Long considered by contractors to be an effective, green building material, ICFs provide excellent climate control and energy efficiency.
Octaform provides all of these benefits and more.
Because the forming system stays in place, the concrete wall is finished when formed – in one step. This eliminates the need for harsh coatings or cladding. Also, Octaform is extremely versatile. Unlike with traditional ICFs (that are similar in shape to Lego blocks), forming curved walls is a snap with Octaform. Add to this, a built-in, watertight, PVC lining and you have the world's best solution for concrete tanks.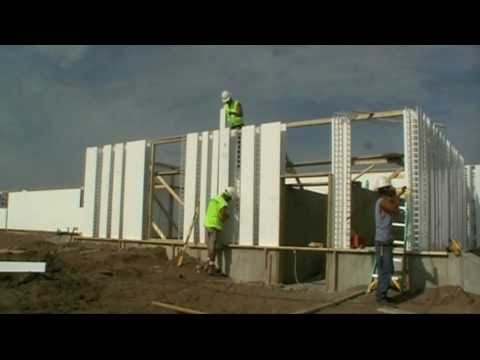 WHY OCTAFORM?
• Resists corrosion
• Watertight finish
• Builds quickly
• Heavy equipment not required
• Insulates to any R-value
• Outlasts alternatives
Sealed, Finished & Formed
Octaform forms have been designed to incorporate two different finished wall panels, providing design flexibility that meets the requirements of a wide range of industry applications. Configurations using one or both types allow the creation of wall structures that are customized to your specific project requirements.
Original
Octaform Original panels slide together vertically to provide easily constructed flat or curved walls as well as tanks of any diameter. The sliding panels allow individual sections of wall to be accessed for rebar tying and easy placement of electrical components and other fixtures within the wall prior to concrete pouring. Octaform Original panels come in flat or corrugated shapes and have applications in agriculture, aquaculture, vehicle wash, water and manure tanks, residential and commercial buildings.
SNAPLockTight
Octaform's SNAPLockTight panel creates a completely sealed wall surface that is watertight,  and CFIA (Canadian Food Inspection Agency) approved.
Utilizing a patented slide, snap and lock system, these panels are perfect for environments that are sensitive to bacteria, mold and mildew such as food processing and waste water treatment. No caulking is required where panels join and we can recommend products that will seal ceiling and roofing interfaces. Octaform SNAPLockTight is supplied as a flat panel in white. Custom colours are available.
Insulation
Like a conventional ICF system Octaform can incorporate insulation to provide excellent climate control and energy efficiency. But when building with Octaform you also get a finished wall.
Our standard insulation panels are made from expanded polystyrene and can be manufactured to meet the R-value requirements of a specific project. Our insulation panels are manufactured with grooves allowing them to slide securely into our forming system.