Left alone, organic waste (such as manure or spoiled food) breaks down and releases methane into the atmosphere. Unharnessed, this biogas is a leading contributor to worldwide greenhouse gas emissions. Anaerobic digestion systems capture this gas and convert it to clean, renewable energy.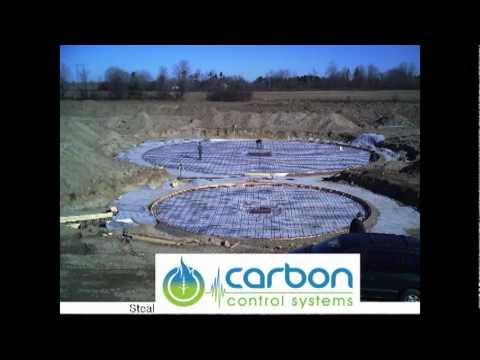 This conversion of waste to energy can be done in many ways but what they all have in common, is a highly corrosive digestion process that will test the limits of any tank technology.
WHY OCTAFORM?
• Resists corrosion
• Built-In finish
• Builds quickly
• Heavy equipment not required
• Insulates to any R-value
• Outlasts alternatives
Builders around the world know that Octaform's built-in PVC finish offers the best possible defence against this. Corrosion-resistance, however, is just one reason to build with us. With Octaform, you can actually build better and save money. Here's how:
Builds quickly
Octaform is the only option that forms and protects your tank in one step. The finish and insulation is built-in, eliminating the need for liners or cladding. Our patented concrete forming system assembles quickly without specialized labor or heavy equipment. No cranes or steel forms are typically required. This fact alone often makes Octaform the most economical tank choice.
Worry-free tanks
In an AD system, cracks and leaks are not just a nuisance – they are escaping profits. With Octaform's built-in finish, you can stop worrying about corrosion, cracks and their subsequent repairs.
Downtime is a thing of the past.
Built to last
Concrete is already one of the toughest and most long-lasting building materials on the planet – Octaform makes it better. By protecting the concrete from corrosion and cracking, it extends the life of it. Whether enduring the hot Florida sun or standing strong against tsunamis and earthquakes, Octaform makes tanks that last.
Build Something Better
Whether you are fighting greenhouse gasses or the rising cost of energy, you will want to build a digester that will last. Call us today and learn what leaders in German biogas already know: Octaform makes the best tanks.